Assistant Professor
Dept. of Political Science
MIT
nardoz@mit.edu
CV

I am a political theorist with an interest in ethnographic methods. My research examines the normative challenges that arise in the course of public policy implementation.
My first book,
When the State Meets the Street
(Harvard University Press, 2017), explores the everyday moral life of street-level bureaucrats. I am currently at work on a second project that looks at the interior architecture of welfare offices.
Prior to joining MIT, I was a junior research fellow at Christ's College, Cambridge and a postdoctoral fellow at the Center for Ethics in Society at Stanford. I received my Ph.D. from the Department of Government at Harvard and hold a B.S. in Electrical Engineering and Computer Science from MIT.
I convene the
MIT Workshop in Social and Political Theory
.
BOOKS

Political Theory and Architecture
Bloomsbury, 2020
Co-edited with Duncan Bell
The essays assembled in Political Theory and Architecture begin from a common postulate: that architecture is not merely a backdrop to political life but a political force in its own right. Each in their own way, they aim to give countenance to that claim.

Taken together, the contributions to this volume show that architecture deserves a place as an object of study in political theory, alongside institutions, laws, norms, practices, imaginaries, and discourses.


With contributions by: Jan-Werner Müller, Josiah Ober and Barry Weingast, Gabor Betegh, Bernardo Zacka, Ronald Beiner, Nancy Rosenblum, Duncan Bell, Ali Aslam, Margaret Kohn, Benjamin Hofmann, Nathaniel Coleman, Mihaela Mihai, Jeff Malpas and Randall Lindstrom, Antoine Picon, and Fonna Forman.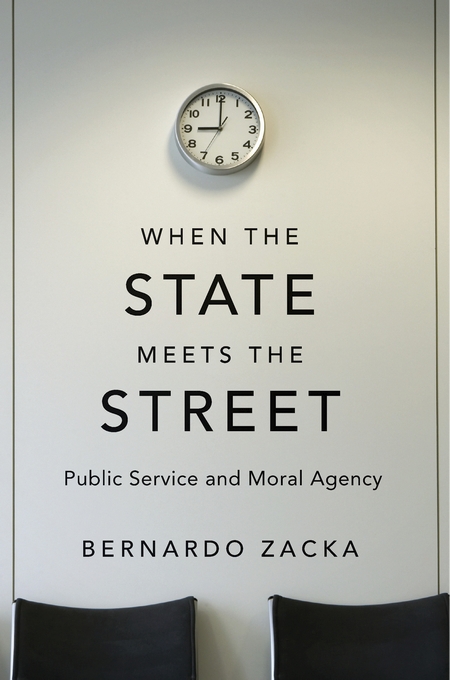 When the State Meets the Street
Harvard University Press, 2017
My first book, When the State Meets the Street (Harvard University Press, 2017), examines the everyday moral life of street-level bureaucrats - the frontline public workers who are responsible for delivering public services and enforcing the law.

It won the 2018 Charles Taylor Book Award from the American Political Science Association for the "best book in political science that employs or develops interpretive methodologies and methods."

It builds on my doctoral dissertation, which won the 2015 Robert Noxon Toppan Prize for "the best dissertation upon a subject of political science" at Harvard University.


ARTICLES & OTHER PUBLICATIONS

Books

When the State Meets the Street. 2017. Harvard University Press. [Link]

Political Theory and Architecture. 2020. Bloomsbury. (co-edited with Duncan Bell) [Link]


Articles

"Political Theory with an Ethnographic Sensibility". Critical Exchange in Contemporary Political Theory. 2020. (editor; with contributions by Brooke Ackerly, Jakob Elster, Signy Gutnick Allen, Humeira Iqtidar, Matthew Longo and Paul Sagar) [Link]

"Political Theory in an Ethnographic Key." American Political Science Review, 113 (4): 1066-1070. (with Matthew Longo) [Link]

"Fieldwork in Political Theory: Five Arguments for an Ethnographic Sensibility." 2019. British Journal of Political Science, 49 (2): 763-784. (With Lisa Herzog) [Link]

"Adhocracy, Security, and Responsibility: Revisiting Abu Ghraib a Decade Later." 2016. Contemporary Political Theory, 15 (1): 38-57. [Link]

"Travel as Ethos: Spatial Exercises in the Work of Tony Chakar." 2013. Grey Room, 50: 46-65. [Link]

"Abu Ghraib, the Security Apparatus, and the Performativity of Power." 2010. American Ethnologist, 37 (2): 203-2011. (With Steven Caton) [Link]


Chapters in Edited Volumes

"What's in a Balcony? The In-Between as Public Good." 2020. In Political Theory and Architecture, Duncan Bell and Bernardo Zacka (eds.), Bloomsbury.

"Introduction." 2020. In Political Theory and Architecture, Duncan Bell and Bernardo Zacka (eds.), Bloomsbury.

"What is Public Space For? Political Imaginaries and Policy Implications." 2019. In The Routledge Handbook of Ethics and Public Policy, Annabelle Lever and Andrei Poama (eds.), Routledge.

"Street-Level Bureaucracy and Democratic Theory." 2019. In Research Handbook on Street-Level Bureaucracy, Peter Hupe (ed.), Edward Elgar.


Book Reviews

Review of The Policy State: An American Predicament, by Karen Orren and Stephen Skowronek. 2018. Contemporary Political Theory, 18 (Supplement 1): 28-31. [Link]

Review of Every Twelve Seconds: Industrialized Slaughter and the Politics of Sight, by Timothy Pachirat. 2014. Contemporary Political Theory, 13 (2): e1-e3. [Link]

"The Two Bodies of the Bureaucrat." 2012. Review of The Bureaucrat and the Poor, by Vincent Dubois. Public Administration Review, 72 (2): 302-305. [Link]


Other Publications

"An Ode to the Humble Balcony." May 9, 2020. The New York Times. [Link]

"Why Border Patrol Agents Obey Immoral Orders." June 20, 2018. Vox. [Link]

"Security." 2018. In the International Encyclopedia of Anthropology, Hilary Callan (ed.), Wiley.

"Are Bureaucracies a Public Good?" 2017. Boston Review, Forum 3: 69-80. [Link]

"Why Bureaucrats Don't Seem to Care." 2017. The Atlantic. [Link]



Just Code: The Ethical Lifecycle of Machine Learning
MIT
An examination of the moral and political questions that arise over the course of the development of a machine learning system: from problem definition and data collection, to model selection and training, evaluation, interface design, deployment, and use. Brings work in STS, sociology, anthropology, and political science into conversation with perennial concerns in political theory about power, authority, legitimacy, justice, liberty, and equality. Considers the political agency of technology.
Justice
MIT
An introduction to contemporary political thought centered around the ideal of justice and the realities of injustice. Examines what a just society might look like and how we should understand various forms of oppression and domination. Answers are provided by studying three theories of justice (Utilitarianism, Libertarianism, and Egalitarian Liberalism) and bringing them into conversation with other traditions of political thought. Readings cover foundational debates about equality, freedom, recognition, and power.
Political Concepts
MIT (PhD Seminar)
A survey of contemporary political theory with an eye to questions of concern in social science. Each week is devoted to a political concept and to the normative and interpretive questions surrounding it. Topics include: power, ideology, liberty, justice, equality, recognition, meaning, legitimacy, democracy, and representation
Architecture, Space, and Politics
Stanford University
We spend a considerable part of our lives in buildings and cities designed for us by architects and urban planners. What normative considerations should guide the design of such spaces? What social role should architecture aim to play? And what criteria should we use to assess whether an architectural intervention is successful or not? This course seeks to address these questions by bringing architecture in conversation with political theory. It examines how political theory can inform our thinking about architecture, and how the work of architects and urban planners—with its attention to the specificities of the built environment—can advance our thinking about politics.
The Ethics and Politics of Collective Action
Stanford University
Collective action problems arise when actions that are individually rational give rise to results that are collectively irrational. Scholars have thought in these terms about a wide range of political phenomena. We examine their findings and probe the theoretical foundations of their approach. What does this way of thinking about politics bring into focus, and what does it leave out? What role do formal and informal institutions play in resolving collective action problems? And what if the required institutions are absent? Are we, as individuals, morally required to cooperate even if we expect that others may not play their part?
Harvard University
What is power? How should we conceptualize it? How should we go about studying it? This course introduces students to various ways of answering these questions. Readings are drawn from political theory, and from a variety of empirical disciplines, including political science, sociology, anthropology, and psychology.